Long-distance dynamic scanner poker cheat camera can help you a lot when you are playing Texas Holdem. This dynamic scanning camera can be hung on the wall while most poker cameras need to be put near marked cards, which also known as the remote poker camera. Before installing the camera, you need to pay attention to the distance between the cards and the scanner. The camera needs to see the barcode. Otherwise, it cannot scan the cards.
Unlike the common poker cheat cameras, the dynamic scanner camera has a wider scanning scope. It can scan the cards automatically as long as the cards within its scanning scope. This poker camera is long-distance that scanning distance can reach 5 meters at most. We will choose the most suitable objects for you according to the camera installation height and the distance between the cheating scanner camera and the playing cards.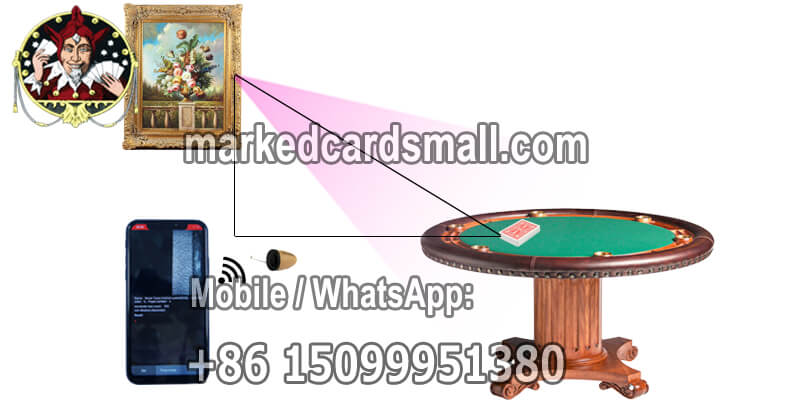 The most common long-distance dynamic scanner poker cheat camera looks like a black box. And we can also install this scanner in most daily things, like the clock, ceiling light, speaker box, and CCTV camera, etc. Generally, the dynamic poker remote camera is using direct current, so its working life is sustainable, long using time. We can also change the direct current into the batteries.
How does the long-distance dynamic camera work in Texas Holdem cheat?
Texas Holdem is a poker game that players need to get the best winning hand. And it always makes a bet in advance. You need to guess who will be the winner. According to this, the dynamic scanner poker cheat camera and barcode cards will help you know the outcome.
The dynamic poker cheat scanner camera has vast scanning scope. If you don't adjust the remote camera before gambling, it can't focus on the barcode image. You need to set the focus point with the marked poker decks, so the scanner can scan the cards quickly and accurately. When the remote camera reads the barcode, the analyzer system will get the results and inform you. Knowing the winner in advance, you will know how to bet is the best.
Let the long-distance dynamic scanner poker cheat camera help you in Texas Holdem!
| | | | |
| --- | --- | --- | --- |
| Color: | Black, White, Others | Material: | Metal, Plastic |
| Scanning Distance: | 1-3 M, 2-4 M, 3-5 M, 1.5-3.5 M, 2.5-4.5 M | Scanning Width: | 30 CM, 40 CM, 50 CM |
| Signal Frequency: | Wireless 2.37G, Wireless 2.47G, Wireless 2.57G, All Switchable | Battery Time: | 10 Hours, 24 Hours, Power Supply |
| Detected Marks: | Barcode, Infrared Marks | | |